09-05-2013, 19:00 |
Michael We.
B'EE in Europa unterwegs
Heute hat B'EE (IN GOWAN RING) einige Konzerttermine in Europa angekündigt. Im Wortlaut
:
Hallo!

Wir haben bald Auftritte in Deutschland und anderen Ländern!

Bis bald,

-B'ee


Schnega: - May 9th for the KLP – Gör 1 bei Frank Sievert
Hamburg: - May 11th house concert: 'the Fairy Trail Presents" Gewerbehof Eimsbütteler Strasse 67 – 8 Euro - reservations & info: mail@tillgerhard.de
Flanders: - May 18th – SkillTree Festival at de Bereklauw – we play at 19hr
Leipzig – May 21st - house show : more info soon…
Würzburg: - May 22nd info: 'Christian Schoppik'" traufunk@web.de https://www.facebook.com/events/150515968452928/?fref=ts
Bruxelles: - May 23rd – House show more info soon
Paris: - May 24th – With Goodbye Ivan 20h30 - L'Index - 42 Rue Lepic - 75018 Paris
Métro : Blanche/Abbesses https://www.facebook.com/pages/LINDEX/157260527720023
Geneva: - May 25th at Le Cabinet : http://www.lecabinet.ch/
https://www.facebook.com/yann.courtiau?ref=tn_tnmn#!/events/162606263907816/?fref=ts
Sunday May 26th – we could still play in Freiburg or Switzerland if anyone wants to setup a last minute show on this sunday!!!
Zwolle – June 15th – festival with Me & My Kites, Lisa O Piu + more….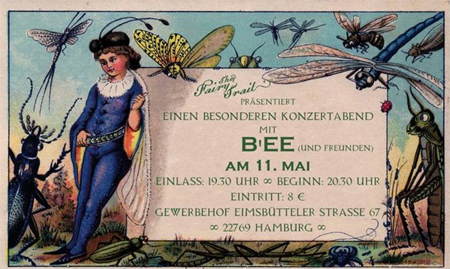 »
Drucken