30-03-2007, 13:10 |
Roy L.
Zwei neue CDs auf Zhelezobeton
CATACLYST - "Monuments Of A Rubicund Age"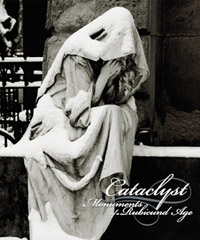 ZHB-X / TANTRA X31 | CD | limitiert auf 600 Kopien
10,00 EUR

Titel:
The Gawds Are Still At Karnak I
The Verge Of Mortal Ground
Elwes In Sheeting Wind
Rubicund Age
Rubicund Cloister
The Serpent's Fang
The Gawds Are Still At Karnak II
Dwarfs In Hidden Realm (Short Mix)
As He Scourged The Earth (Weird Mix)

Labelinfo:
A strange project that for a moment united Peter Andersson (raison d'etre) and Johanna Rosenqvist (ex-Institut, Koeff) in the distant 1992. Cataclyst's music combines the melancholic beauty of early raison d'etre and Necrophorus, harsh industrial rhythms of Institut and tribal-elements of another undeservingly forgotten project of Peter - Svasti-Ayanam... What differs this product from other works of Swedish industrial scene masters is the atmosphere of remote fairy worlds in which you smoothly sink into while listening to "Monuments of a Rubicund Age". Peter and Johanna have woven an infinite labyrinth of mirages, walking through which will be a pleasant surprise for both the fans of ambient / experimental / industrial and more conservative gothic lovers. The first edition of the album was published by Peter's own label Yantra Atmospheres in 1999 and was limited to 100 copies. This reissue has been made by joint efforts of the labels Tantric Harmonies and Zhelezobeton, it contains a shorter version of the album's last piece + bonus-track. Original photographs are made by Pavel Bourchenko.


THE INFANT CYCLE - "Playout"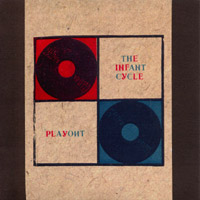 ZHB-XI | CD-R | limitiert auf 250 Kopien
6,50 EUR

Titel:
How To Bow A Tone Arm
Skinning The Platter

Labelinfo:
The Infant Cycle is a project of the Canadian artist Jim DeJong working under this name since 1994. It may seem surprising, but all these 13 years he remained in the underground of experimental music, and his name is well-known only to inveterate enthusiasts and explorers of this strange phenomenon. The project has put out 6 full-length albums on cassettes and CD-Rs, several singles and an amazing series of minions called "Clear Shape" released in ultra-limited editions on transparent vinyls of unusual forms (square, hexagon and triangle). Jim has also recorded a lot of collaboration works with such musicians as Big City Orchestra, Dronaement, Orphx, Aidan Baker, Delphium, etc., some of them were published by his own label The Ceiling.
The Infant Cycle's music has never been notable for tensity or ornateness, instead of this it focuses on the subtle aspects of sounding of separate timbres and their combinations. Such textural orientation allows to create a completely peculiar effect, and the seeming minimalism carries into the contemplation of the infinity of possible microsound combinations. In this connection, Jim knows how to get on with both rhythms and drone ambient prostration. Among his favourite instruments are Poly-800, shortwaves, feedback, field recordings and altered vinyl records.
Vinyls deserve special mentioning. Jim carved the runout grooves of records and thus created simple and unembellished (yet in some ways, unpredictable) rhythm patterns. Once he decided to start a project severely limiting the sound sources to one carved playout and the operational sounds of his old 4-speed Califone record player. Additional noises were generated by running a razor blade along the platter while it was spinning (the blade at different altitudes, and the platter at different speeds which was picked up by the needle), and the tone arm being vibrated into different tones by a violin bow (amplified via the needle).
An early track (called, fittingly "Playout (Early)") appeared on "Lágrimas De Miedo N°8 - Sund", a compilation CD coming with the eighth issue of France's "Fear Drop" magazine (2001). Two excerpts were also released as a free promotional 5" by The Ceiling to announce the then-upcoming CD release of "Playout" on the American label Merchants Of Sound. But the label soon folded out, and the recording was lying and lying in the bins of The Infant Cycle's archive. And now we are infinitely glad to have an opportunity to present this work to your attention!


Beide Veröffentlichungen sind über Zhelezobeton erhältlich.
»
Drucken
Verweise